If you've got some summer holidays planned to somewhere hot and sunny with beaches thrown in, then you have probably already started to plan your holiday wardrobe. In the UK we aren't exactly blessed when it comes to great weather, and while it is undeniably lovely when it is sunny, it can catch us on the hop. It's no secret that we love our holidays (especially when it means a week away from the kitchen). I love to plan my holiday wardrobe well ahead of schedule, so check out some of the beachwear picks I've been keeping in my cart for the last few days before I jet off on my summer holiday to Malta!
One good thing about not enjoying guaranteed fantastic summer weather though, is the fact that we can really treat ourselves when it comes to our clothes, shoes and accessories for our holidays. Debenhams is one of the most trusted names on the British high street, so if you are looking for some gorgeous and good quality beachwear, then it is a great place to start. Check out some their best beachwear pieces right here.
The perfect summer sun dress should be loose, comfortable, bright and fun; something that you can easily pair with a floppy sun hat or some flip-flops or some comfortable pumps for a day of sight-seeing. This Hawaiian print dress by Mantaray is absolutely perfect for a beach holiday with its stunning and eye-catching tropical floral print in orange and pink. It's not too short but is lovely and airy, 95% cotton with a flattering neckline. You will easily be able to throw this on whether you are going to the beach or simply down to breakfast. Available in sizes 8-18, it's a bargain at only £32. Thanks to its 5% elastane content, this dress won't crease easily in your suitcase and is super lightweight too if you are worried about airline weight limits! It's a practical buy that will be super practical on your holiday.
In recent years, one piece swimsuits have made a huge comeback and it's not hard to see why. Their elegant shape, different strap options and more demure covered up nature are chic and undeniably practical when it comes to water sports. This sexy black swimsuit is perfect if you don't feel so comfortable baring all. The artfully placed ruching will hide any lumps and bumps, and there is actually tummy control inbuilt into the suit meaning that you will have a smooth and sleek silhouette when you are at the beach. With good support thanks to its straps and crossover design, this classy swimsuit form the Debenhams Beach Collection retails at £34.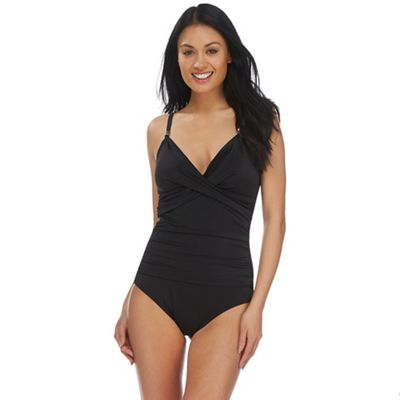 This year you can forget the floaty kaftans as your beach cover-up and get a pair of comfortbale beach trousers instead! They will give you a sleek and sophisticated silhouette and mean you can get away with wearing you swimsuit underneath as you make your way back to the hotel. For some instant elegance, why not try out this wide legged palazzo pair from the Beach Collection? They are incredibly glamorous and hark back to the screen sirens of the 1950s. With the subtle navy, you could always lounge with ease at a beach side café with an air of sophistication. Retailing at £28,these lightweight trousers are another easy to pack addition to your suitcase.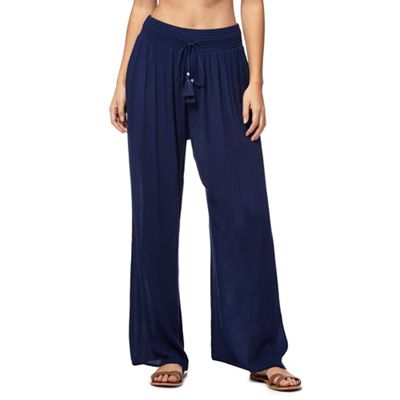 To help you out and because everybody, including us, loves a bargain whether it is on kitchen equipment or fashion, here is a link to a Debenhams code to help you save money when you shop online with them: https://www.groupon.co.uk/discount-codes/shops/debenhams.com